7 Games Kids Can Play At Birthday Parties
Birthdays are a way of celebrating the milestone that your child crosses each year. Many parents like to hold birthday parties to celebrate these special occasions. After all, childhood is all about making happy memories. You can even Hire Birthday Party Organizers to do the work if you don't have too much time on your hands. According to the experts at www.themaven.net/kidsactivities, it's always a good idea to organize plenty of activities at a 's birthday party to keep their energy focused and enjoy their time together among friends.
Team games Are More Fun

· DIY Piñatas
Ask the kids to decorate empty paper bags with sketch pens, glitter, stickers and so on. Once they are done, fill these bags up with candy and blow air into them. Next, use a thread to tie it up. You can hang these DIY piñatas along a string that is stretched between two trees or posts. Now let the kids have fun trying to whack their piñatas in an attempt to get the candy stuffed inside them.
· DIY Dog houses
You can encourage kids to use their creativity skills to convert white cardboard boxes found at most stationary shops into dog houses with a couple of accessories like coffee stir sticks, popsicle sticks, and so on. After they have finished decorating these cute dog houses, give them cookies, candies and a miniature dog to place inside their DIY doghouse.
Have Adults Monitor Closely
· Pillow Art
In this fun activity, kids get to decorate plain pillow covers with fabric markers and stamps in their favourite colours. You can also offer a few homemade stamps by cutting out sponges in different shapes like heart, moon, star and so on.
· About Me Booklet
This activity works well or kids below 4 years old. They can put their handprints on a DIY booklet and fill it with information about them, like favourite colour, best friend's name, favourite toy and so on. You can also add a Polaroid pic to the booklets to make them even more fun.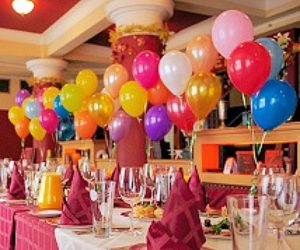 · DIY Bracelet
If you are having a party for a group of preteen girls, a bracelet making corner will be a huge hit. The kids can learn how to braid different patterns using colourful strings and add embellishments to them as well.
· Magnet Decoration
Decorating magnets with pom poms, googly eyes, pipe cleaners, etc. is a fun activity for kids below ten years. You can let them get creative and come up with their own ideas.
Choose Age Appropriate Games At Parties
· Treasure Hunt
This exciting activity can be tailored to any age. All you need to do is set the difficulty of the clues according to the age of the kids at the party. Kids can either try to complete the treasure hunt individually or as teams. They will have plenty of fun trying to figure out the clues before time runs out.
You need to be able to choose the right activity for each age group. If you don't have the time to go through the hassle of picking and planning parties, you can always call up reliable birthday party organizers to lend you a hand. This way you get to sit back and enjoy the fun!
Know More About : How To Celebrate Your Birthday In This Pandemic?